About
The baseball training product that Jake Mauer II invented to help his three sons learn to hit a baseball more consistently is now helping hitters all over. One of those sons is Joe Mauer of the Minnesota Twins.
The Quickswing is the ultimate baseball swing training aid and is used by numerous colleges, high schools, youth associations and baseball players looking to develop their best swing. You don't have to take our word for it, we have a little bit of proof.
Joe Mauer: Quickswing User, AL MVP & All-Star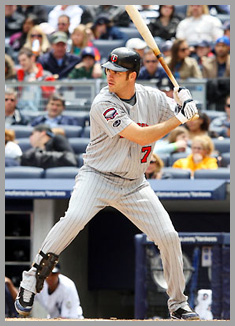 Joe Mauer is one of Major League Baseball's most consistent and feared hitters as the all-star catcher for the Minnestoa Twins.
Joe honed his hitting skills using the Quickswing with his brothers (who both played pro ball) to create faster hands and superior hand eye cordination.
Some of Joe's Acheivments:
+ 3 Time American League Batting Champ
2006, 2008, 2009

+ American League MVP in 2009

+ Career .327 Hitter